Elf The Musical
19th - 23rd January 2022
Grand Theatre, Lancaster
Show Programme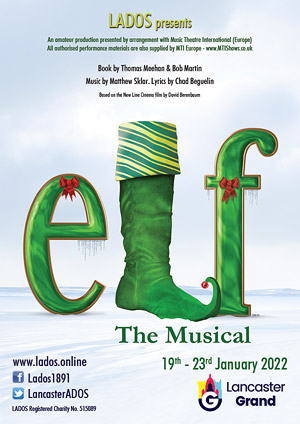 This amateur production is presented by arrangement with Music Theatre International (Europe). All authorised performance materials are also supplied by MTI Europe - www.MTIShows.co.uk

Book by Thomas Meehan & Bob Martin
Music by Matthew Sklar
Lyrics by Chad Beguelin

Based on the New Line Cinema film by David Berenbaum
Elf The Musical
19th - 23rd January 2022
Grand Theatre, Lancaster
---
Evening performances Wednesday to Saturday plus Matinees on Saturday and Sunday.
We were hoping to bring you 'Elf the Musical' in May 2021, but we have taken the decision to move the show into January 2022.
Further information about our exciting new production for 2022 will be published soon including dates for upcoming auditions.
This amateur production is presented by arrangement with Music Theatre International (Europe). All authorised performance materials are also supplied by MTI Europe - www.MTIShows.co.uk

Book by Thomas Meehan & Bob Martin
Music by Matthew Sklar
Lyrics by Chad Beguelin

Based on the New Line Cinema film by David Berenbaum
Back to Our Productions

Copyright © 2005-2021 Lancaster Amateur Dramatic & Operatic Society

All Rights Reserved
No part of this website may be reproduced, stored in a retrieval system or transmitted in any form or by any means; electronic, mechanical, photocopying, recording or otherwise, without permission.

Registered Charity No. 515089

Contact Us - Privacy Policy

Copyright © 2005-2021
Lancaster Amateur Dramatic & Operatic Society

Registered Charity No. 515089

Contact Us - Privacy Policy

All Rights Reserved
No part of this website may be reproduced, stored in a retrieval system or transmitted in any form or by any means; electronic, mechanical, photocopying, recording or otherwise, without permission.