Hairspray
5th - 9th May 2020 - CANCELLED
Grand Theatre, Lancaster
Show Programme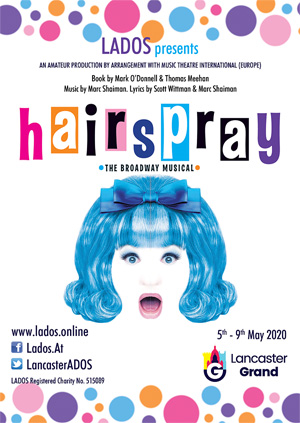 Based on the New Line Cinema Film written and directed by John Waters
Orchestrations by Harold Wheeler
Arrangements by Marc Shaiman
The Book by Mark O'Donnell & Thomas Meehan
Music by Marc Shaiman
Lyrics by Scott Whittman & Marc Shaiman

This amateur production is presented by arrangement with Music Theatre International (Europe)
Hairspray
5th - 9th May 2020 - CANCELLED
Grand Theatre, Lancaster
---
Unfortunately, this production was cancelled due to the Covid-19 pandemic.
Pre-Audition rehearsals started on the 7th October 2019, with auditions and casting taking place on 21st October 2019. From then it was full steam ahead with rehearsals every Monday and Thursday. At the helm making her LADOS directorial debut was the very talented
Laura Saltariche
. Laura has been teaching Drama and English for the past 14 years and was welcomed into the fold.
Holly Brown
would be reprising her 2015 role as Tracey Turnblad as well as Choreographer. Musical Direction was under the control of
Anna Eddowes-Scott
.
On 17th March 2020, as Covid-19 moved closer to our shores and opening night just 7 weeks away, we took the only sensible decision to postpone Hairspray. We had secured new dates with the Grand Theatre for the end of July but the beginning of April with the UK in lockdown we moved the dates further out to the end of September. By mid May, our original opening night had been and gone, it was very apparent that we would not be able to bring Hairspray to the stage this year.
We already had a great production lined up for May 2021 but in light of all the hard work that had been poured into this show from the cast, to the production team and creatives to the admin we still wanted to give this amazing cast their chance to shine. The decision was made to postpone until our May 2021 slot at the Grand.
In June, following the death of George Floyd in the US and the "Black Lives Matter" protests around the World, the Rightsholders updated their casting requirements to state:
"At its core, Hairspray is a story about acceptance and inclusion (and rejection and exclusion) during the early days of the civil rights movement. The authors' artistic vision requires that, in order to clearly and appropriately tell that story, the cast members in the show accurately reflect the characters as written. As such, this Performance Agreement requires that the cast members in your production of Hairspray accurately reflect the character descriptions contained in the script."
During the casting process, we had tried to cast all roles "as written" but the original license permitted "folk whose skin colour doesn't match the characters" acknowledging not all schools and societies would be able to cast the roles fully otherwise. Although we were given the go-ahead to proceed with our original cast we took the decision to cancel our production. It was the right decision, the only decision. The cast and crew were disappointed, of course, but unanimously supported our decision.
Based on the New Line Cinema Film written and directed by John Waters
Orchestrations by Harold Wheeler
Arrangements by Marc Shaiman
The Book by Mark O'Donnell & Thomas Meehan
Music by Marc Shaiman
Lyrics by Scott Whittman & Marc Shaiman

This amateur production is presented by arrangement with Music Theatre International (Europe)
Back to Our Productions

Copyright © 2005-2023 Lancaster Amateur Dramatic & Operatic Society

All Rights Reserved
No part of this website may be reproduced, stored in a retrieval system or transmitted in any form or by any means; electronic, mechanical, photocopying, recording or otherwise, without permission.

Registered Charity No. 515089

Contact Us - Privacy Policy

Copyright © 2005-2023
Lancaster Amateur Dramatic & Operatic Society

Registered Charity No. 515089

Contact Us - Privacy Policy

All Rights Reserved
No part of this website may be reproduced, stored in a retrieval system or transmitted in any form or by any means; electronic, mechanical, photocopying, recording or otherwise, without permission.