Welcome to LADOS Online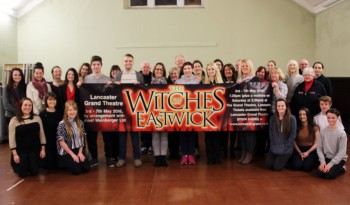 The LADOS 2016 Company
The LADOS 2016 Company
×
On behalf of Lancaster Amateur Dramatic & Operatic Society we bid you a warm welcome to our new 'responsive' website - meaning it works just as well on your mobile phone or tablet as it does on your PC!
Our 2016 production was The Witches of Eastwick with 6 wickedly fabulous performances at the Grand Theatre, Lancaster from 3rd to 7th May 2016.
Now we fly South from Eastwick to New York for our 2017 production of West Side Story at the Grand Theatre, Lancaster, 2nd to 6th May 2017.
See our How to Join page for details on how you can be a part of our stage cast or backstage crew. Over time we will be adding details and photos of our previous productions.
Latest LADOS News...
Friday 28th October 2016
West Side Cast Released
The cast of our 2017 production of West Side Story has now been released.
---
Tuesday 30th August 2016
Casting call for West Side Story
We are looking forward to seeing everyone for the start of the new season. Below is some brief info on start date/auditions. We rehearse at Priory Hall, Lancaster and will start on 3rd October, 7.30pm.

Copyright © 2005-2016 Lancaster Amateur Dramatic & Operatic Society. Registered Charity No. 515089. All Rights Reserved Privacy Policy

Copyright © 2005-2016 Lancaster Amateur Dramatic & Operatic Society
All Rights Reserved

Registered Charity No. 515089 Privacy Policy