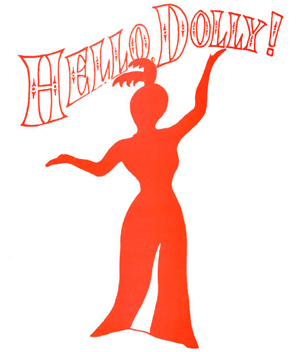 Hello Dolly!
5th - 10th March 1990
Grand Theatre, Lancaster
Book by Michael Stewart
Music & Lyrics by Jerry Herman
Based on the play "The Matchmaker" by Thornton Wilder

Original production directed and choreographed by Gower Champion
Produced for the Broadway stage by David Merrick & Champion Five Inc.

This amateur production by arrangement with Musicscope Limited & Stage Musicals Limited of New York
Hello Dolly!
5th - 10th March 1990
Grand Theatre, Lancaster
Cast in order of appearance
Townspeople, Waiters, etc
Arlene Arnold, John Atkinson, Irene Bell, Joanne Bell, Roy Billam, Roger Bradley, Gary Brierley, Robert Boyle, Liz Cantley, Ann Carter, Richard Chadwick, Patricia (Pat) Chambers, Chantelle Denby, Frank Dewhurst, Steven Fisher, Ellodie Gibbons, Ruth Gibbons, Susan Howard, Margaret Johnson, Kath Machulec, Harriet Montagu-Pollock, Michael Orr, Joanne Prescott, Denise Rawlinson, John Read, Nicola Read, Sylvia Rogerson, Lorna Ross, Jane Silvester, Audrey Tarney, Maureen Watson, Rodney M Webb
Production Team
| | |
| --- | --- |
| Producer | Peggy Brierley |
| Musical Director | Noel McKee |
| Rehearsal Pianist | Angela Pearson |
| Choreographer | Sharon Harrison |
| Stage Manager | Gordon Mashiter |
| Lighting | Colin Whiteside, Jane Whiteside |
| Wardrobe | Margaret Hartley, Irene Bell |
| Make-Up | Vera Atkinson |
| Property Team | Cliff Beckett, Hazel Beckett, June Derham, Linda Edwards, Harold Jackson, Irene Metcalfe |
| Prompt | Liz Eyes |
| Backstage Refreshments | Dorothy Orr |
| Front of House Manager | David Brierley |
| Box Office | Dorothy Whiteside, Sarah Vose |
| Chorus Master | Michael Orr |
| Publicity Photographs | Sarah Morrell, Suzanne Ward, Jane Silvester, John Morrell, David Brierley, Lynn Jackson, Hazel Beckett, Dorothy Whiteside, Roger Bradley |
| Publicity Artwork | Malcolm Bannister, Robert Huntington |
Book by Michael Stewart
Music & Lyrics by Jerry Herman
Based on the play "The Matchmaker" by Thornton Wilder

Original production directed and choreographed by Gower Champion
Produced for the Broadway stage by David Merrick & Champion Five Inc.

This amateur production by arrangement with Musicscope Limited & Stage Musicals Limited of New York
Back to Our Productions

Copyright © 2005-2023 Lancaster Amateur Dramatic & Operatic Society

All Rights Reserved
No part of this website may be reproduced, stored in a retrieval system or transmitted in any form or by any means; electronic, mechanical, photocopying, recording or otherwise, without permission.

Registered Charity No. 515089

Contact Us - Privacy Policy

Copyright © 2005-2023
Lancaster Amateur Dramatic & Operatic Society

Registered Charity No. 515089

Contact Us - Privacy Policy

All Rights Reserved
No part of this website may be reproduced, stored in a retrieval system or transmitted in any form or by any means; electronic, mechanical, photocopying, recording or otherwise, without permission.